Measures Adopted to Reduce Transmission of COVID-19
Algar Seco Parque

Within the scope of the COVID-19 pandemic, Turismo de Portugal created the "Clean & Safe" seal to distinguish companies in the sector that comply with the minimum hygiene and careful cleaning requirements for the prevention and control of this virus or other possible infections, in order to allow tourism enterprises, tourist entertainment companies, and travel agencies to have a tool that certifies them as safe establishments, guaranteeing the tourist's confidence in the destination.
These measures require the creation of an internal protocol, in conjunction with the recommendations of the Directorate-General for Health, which ensures the necessary hygiene to avoid risks of contagion and ensure safe procedures for the operation of tourist activities.
---
IMPORTANT:
The Government of Portugal has recently decreed that guests will need to present a vaccination certificate or a negative covid test to stay at local hotels and tourist accommodations across the country.
At any time during weekends (starting Friday 7 pm) and holidays, you will have to present a digital certificate or a negative Covid test to be seated in the interior of restaurants in high or very high risk municipalities.
These four types of test are accepted for restaurants and tourist and local accommodation establishments:
► PCR test, performed within 72 hours prior to presentation;
► Antigen test with laboratory report, carried out within 48 hours prior to its presentation;
► Rapid antigen test in the self-test mode, carried out within 24 hours prior to its presentation in the presence of a health or pharmaceutical professional who certifies that it has been carried out and its result;
► Rapid antigen test in the self-test mode, carried out at the door of the establishment you intend to visit, under verification by those responsible for these spaces.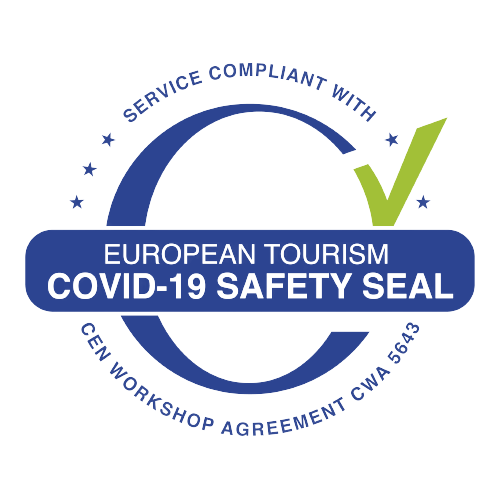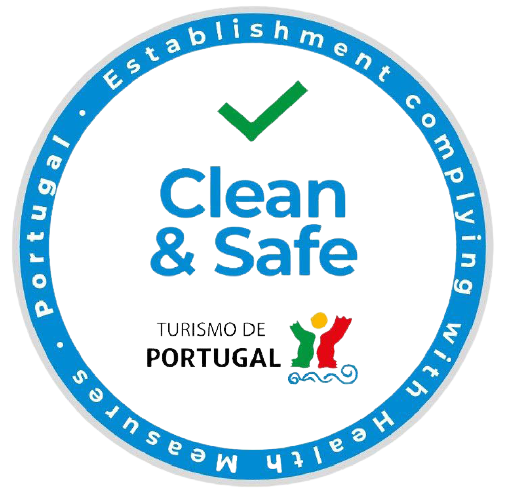 Furthermore:
Reservations
In order to speed up the process of check-in and to avoid handling passports, a document will be sent out to future clients with the requirement needed to register at SEF. This document can be (partially) filled and should be returned by email.
Whenever possible, a window of 24 hours will be left for deep cleaning before the accommodation is occupied again.
Public Areas
Hand sanitizer stations at all entry points and throughout the lobby
Housekeeping employees are wearing gloves and masks for their work
Signage in the lobby and pool area to remind guests to maintain social distancing protocols
All high-touch surfaces are regularly cleaned and disinfected throughout the day, especially front-desk counters, doors, and door handles, and any common use areas within the hotel, the Bistro, and the pool area.
Public bathrooms are cleaned 3x a day.
Windows and doors are open as much as possible to encourage airflow.

Check-in
A partition at the front desk provides an extra level of precaution for guests and staff
Masks, visors, and gloves are available to staff.
Hand sanitizer is used before each interaction with guests
Required / missing passport information will be filled by the guest (form sent out by email before arrival)
Guests will no longer be accompanied to the apartment, a map is provided with directions
Key cards will be disinfected before and after usage
Implementation of protocols related to guests who arrive for check-in and exhibit symptoms of a virus or inform the property that they have tested positive for the virus and wish to self-quarantine at the hotel

Rooms
Masks, gloves and hand sanitizer are available to guests on request and at cost
The house info map is removed from the accommodation and available on flash pen through the television. A physical copy is available on request.
Pens and notepads are removed from the rooms.
Books can be removed upon request
Information sheets in the rooms are laminated for easy disinfecting between guests
Decorative pillows, bed runners, and magazines are removed.

Pool Area
Chairs are set 2m apart
If necessary, the number of guests using the pool at a time could be limited (to mornings/afternoons)
Mattress for the pool beds – there will be one per guest in the apartment to be used at the pool.
Guests will take them to the pool and back to the apartment after use. After the guests leave the mattresses will be collected and disinfected
Staff
Hotel teams are keeping their distance to the guests of at least 1.5 metres
When entering the accommodation with guests present, staff members wear a mask.

Cleaning
The cleaning procedure will take place in accordance with the Clean&Safe Seal and DGS guidelines.
Housekeepers wear masks and gloves to prevent the spread of the virus in case they are an asymptomatic carriers.
Housekeeping will only take place while the guest is out
Housekeeping service on offer: normal housekeeping, a streamlined service that occurs every other day, and/or a light service that is limited to emptying the trash, supplying fresh towels, and new amenities (depending on length of stay).
Particular attention is paid to high-touch, hard nonporous items including television and A/C remote controls, toilet seats and handles, door and furniture handles, water faucet handles, nightstands, telephones, light switches, and flooring.
Sick Guests
There is a policy in place on managing sick guests, with protocols on how those rooms receive housekeeping and ensuring that sick guests do not spend time outside of their rooms.
In the event of a presumptive case of COVID-19 the affected accommodation shall be removed from service and quarantined. It shall not be returned to service until undergoing an enhanced cleaning and disinfecting utilizing approved products within DGS guidelines.

Restaurants - update July 2021

Restaurants, cafés and snackbars are open until 10:30 pm in our area (Municipality of Lagoa). Groups of max. 4 persons are allowed on one table inside and max. 6 on each table outside.
A negative test or the EU Digital COVID certificate will be required for access to meals in the interior of restaurants on weekends and national holidays (see details under "Important" above).
Please do note that circulation on public roads is not permitted between 11 pm and 5 am..
In order to help stem the transmission of COVID-19, all customers shall ensure the following measures:
Sanitize hands with an alcohol-based solution or with soap and water at the entrance and when leaving an establishment;
Measuring of body temperature may be required before entering an establishment or public transportation;
Always respect the distance between people of at least 2 meters (except cohabitants)
Comply with respiratory etiquette guidelines. Use of a face mask is mandatory in any establishment, shops and public transportation;
Use of a face mask is mandatory in open air, in any case the distance of 2 meters cannot be guaranteed. Children under 10 years of age and persons with a medical certificate are exempt from this obligation;
Note that in case of violation of these rules, fines may be imposed;
Avoid unnecessary touching of surfaces and objects;
Give preference to payment by means that do not involve physical contact between the employee and the customer (e.g. contactless automatic payment terminal).

Beaches
Please click here to review the Rules for Beaches